Meskipun banyak pemilik anjing lebih suka merawat anjing mereka sendiri, memelihara anjing secara profesional akan menghemat waktu dan energi Anda. Dibutuhkan banyak perawatan dan kesabaran untuk merawat anjing, terutama anjing yang memiliki bulu lebat, anak anjing, atau yang memiliki masalah perilaku.

Sesi perawatan profesional biasanya terdiri dari brushing, pemandian, pengeringan serta dipangkas atau dipotong. Groomer akan menyikat atau menyisir alas sebelum mandi, membuatnya lebih mudah untuk memandikan anjing dengan sampo. Mereka membersihkan telinga anjing untuk menghilangkan penumpukan dan untuk memeriksa tanda-tanda infeksi. Ketika bulu anjing telah kering, ia akan dipangkas, dipotong, atau dicukur, jika diperlukan atau diminta. Pastikan untuk mengomunikasikan permintaan atau kekhawatiran Anda dengan jelas kepada groomer Anda, dan anjing Anda yang berharga akan terlihat jauh lebih baik setelah selesai menjalani grooming. Groomer biasanya memangkas sebagian besar bulu anjing di atas mata, di ujung telinga, dan di bagian bawah kaki. Mereka memotong kuku anjing agar menjadi nyaman dan tidak melukai dirinya sendiri.
Groomer Memiliki Alat yang Tepat
Anda tentu tidak ingin menggunakan gunting Anda sendiri dan pisau cukur listrik untuk melakukan grooming. Profesional groomer memiliki semua alat yang tepat untuk membuat anjing Anda menjadi yang terbaik, dari berbagai jenis gunting hingga meja perawatan yang dapat disesuaikan. Para groomer juga dilengkapi dengan sampo untuk anjing dengan alergi kulit, iritasi, kutu, dan kutu. Banyak groomer juga tahu bagaimana cara merawat anjing yang mengikuti groom show, yang tentunya membutuhkan perhatian yang sangat detail.
Mereka Mampu Menyesuaikan Jadwal Dengan Anda
Toko perawatan anjing cukup banyak di Indonesia, membuatnya mudah untuk menitipkan anjing Anda dan menjemputnya nanti. Klinik dokter hewan Anda, tempat penitipan anak anjing, atau fasilitas asrama bahkan mungkin memiliki toko perawatan atau perawatan anjing di lokasi

Mereka Tahu Cara Menangani Anjing
Anjing yang lebih tua atau menjadi cemas atau agresif ketika Anda mencoba merawatnya mungkin perlu dibius saat dirawat - sesuatu yang tidak dapat dilakukan di rumah, tetapi dokter hewan dan / atau perawat dapat melakukannya. Saat memegang anjing Anda, groomer Anda mungkin juga memperhatikan cedera atau benjolan yang tidak Anda sadari. Jika Anda sendiri memiliki kondisi seperti sakit punggung atau radang sendi, yakin perawatan profesional akan mencegah Anda dari harus melakukan pengangkatan dan penanganan yang berlebihan terhadap anjing Anda.
They Take Care of the Yucky Stuff
Cleaning anal glands, shampooing a muddy or skunked dog, and removing fleas and ticks are not the most pleasant things to take care of, but come with the price of owning a dog. A professional groomer knows how to take care of and clean all of these seemingly yucky things, and more.
How Often Should I Have My Dog Groomed?
Although it depends mostly on the breed, hair length, and type of coat, regular grooming should be done about once a month. For young puppies and dogs who have never been groomed, more frequent grooming or brushing at home should be done to get the dog used to being handled and to avoid grooming issues into adulthood. This is called desensitization and can be done for several other reasons.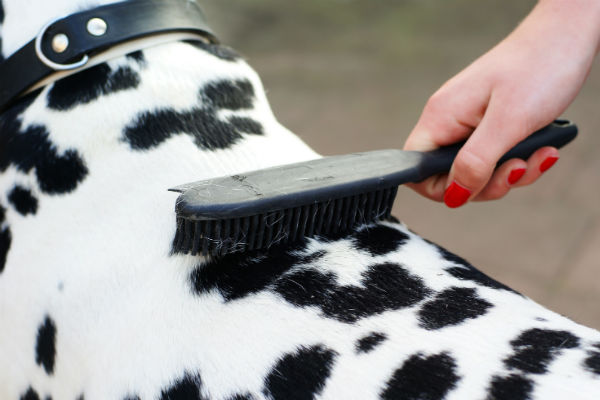 What Should I Do in Between Groomings?
Brushing your dog once a week or so will help with shedding and prevent any mats from forming in your dog's coat. A buildup of mats can become painful for your dog. If your groomer can't get them out, your dog might have to be completely shaved down.
Finding a Groomer
Your friends, neighbors, local breed club or veterinarian can often provide recommendations for a dog groomer. Pet Republic Jakarta is the right place to do grooming with our professional staff.